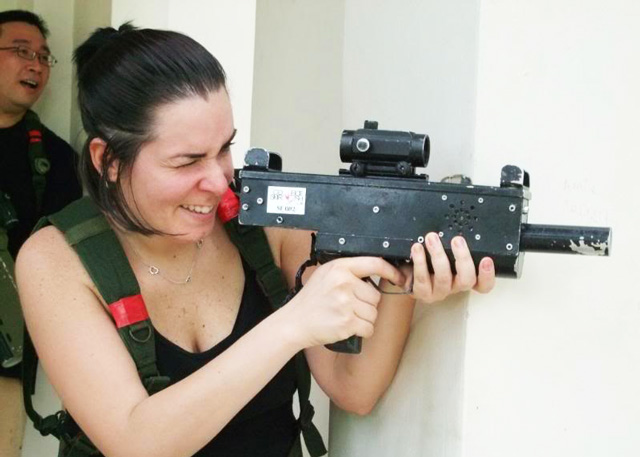 PIONEER LEADER OF LASER TAG IN SINGAPORE
As the pioneer leader of laser tag shooting games in Singapore, Combat Skirmish is proud to present you our arsenal of 13 different types of guns. Being the pioneer and most experienced market leader of providing mobile laser tag / laser shooting games, we fully understand what our customers are looking for.
TRAINED AND EXPERIENCED STAFF
Expect all Combat Skirmish Laser Tag staff to be well-trained and experienced in the field of conducting laser tag missions / laser tag shoot outs. Over the years, we have acquired a good sense of knowledge and are able to run customized laser tag missions that will fit your group dynamics. From time to time, we might even share with you some cool laser tag tactical skills and tips that would definitely help you improve your game play. If you've always got burning questions about our laser tag game play, fire away at our contact page!

OUR STATE OF THE ART MODERN AND REALISTIC GUNS
Our laser tag guns are replicas of real weapons and they feel the same too. I'm pretty sure you wouldn't want to be seen holding a super soaker like hobby-grade gun in your hands and trying to look "macho" during the game. All our guns are made of metal and they look almost like the real deal. (We occasionally get people calling up the Local Police to come down for a check to ensure that they are actually toys) Not only do they look real, they are also able to give real time feedback. Our guns are fitted with an advanced technological system known as SATR (Small Arms Transmitter Receiver). This technology provides real time hit feedback and gives gamers live, immediate data about the current state of game play. It sounds 'Casualty' when you have a hit, 'Kill Confirmed' and 'Dead Already', enabling you to adapt your tactics accordingly! Check out our arsenal of weapons here.

ABILITY TO SUPPORT LARGE GROUPS
We are able to support up to 250 players in a single booking. Yes, we have enough guns for that many people! Everyone gets a fair amount of rest and play time – this means no more long and dreadful waiting times. What are you waiting for, contact us today regarding your group event bookings and leave it all in our hands – we'll handle the logistics and planning for you!

PROMPT ATTENTION
We provide on-time daily response via email and phone calls. Although we strongly believe in a work-life balance, we also believe that you should receive attention from us within the shortest possible time of your enquiry. Don't hesitate to leave us a note on our contact page if you need any further information for your next laser tag party or teambuilding event.