WHAT OUR CLIENTS SAY ABOUT US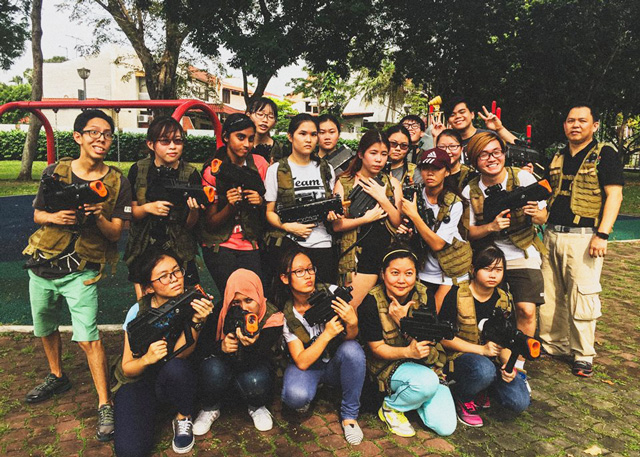 Thanks Jericho so much for the arrangement yesterday for our team's Laser Combat Session. My colleagues had lots of fun and enjoyed the missions very much (despite being superbly exhausted). Compliments to your colleagues as well! Joyce did a great job with her briefing and engaging our team in the games. Hopefully we can arrange something similar again with Combat Skirmish soon.
Natalie Koh-Teo, Senior Constituency Manager, 
Yio Chu Kang Constituency Office
(13 October 2014)
---
The game last night was great fun, by the way and the location was fantastic. i and a few others prefer that to Sentosa, haha.. In fact, all the kids loved it and couldn't stop talking about it the whole night!! Haha.. and I think Felix is interested in getting people he works with to play… We'll help you spread the word around. It's so fun, everyone should try it at least once!
Valerie Looi, Sportsmag
---
Our boys having a good time is an understatement. They are truly overwhelmed & thanks to all of the grace your company has bless us with the amazing activity.
Allan Yeong, Teacher, Northland Sec Sch
---
We would like to extend our sincere appreciation for your kind participation at our recent Family Day. Your support helped us to run the event successfully and raise funds for the Club's charities. Thank you.
Brian Toft, General Manager, The British Club
---
Thank you for the battle game experience – the team really enjoyed it. I would definitely recommend as an activity for corporates and maybe we will be back to play at Sentosa. Thank you
Sophie Baldwin, Program Director, Industries, Oracle Asia Pacific
---
"Event organizers did a very good job and were most helpful in their planning. All in all a truly enjoyable experience. Well Done staff of Combat Skirmish!"
"Combat Skirmish – you have done a great job. I enjoyed myself a lot"
"Very well managed events with capable + friendly facilitators."
"Very good presentation and well organized activities."
"You've given us a fantastic trip here. If I have a choice, I'll choose Combat Skirmish again. Well done. Keep it up!"
Staff of West View Primary School
---
I just wanted to say thank you so much for a great afternoon in Singapore. I have never had such a good response for any activity before! You and your staff are brilliant, and the games are superb. Even those people who didn't want to play at first ended up with giant grins on their faces!! Not only was it great fun, the organization was very smooth, making this an easy and exciting activity to set up. Even I got to relax and enjoy myself for a few hours as I could see that the group were being completely looked after by your team. So thanks again and best of luck in the future.
Jessica Wood, EA to Anthony Harris, SVP APJ & Mark Fahmy, RVP ANZ TIBCO Software Inc.
---
I must say that you & your team have conducted a good teambuilding event. For those who have not gotten a chance to show their leadership qualities, a chance was given to them to show their capabilities and liberty of decision making moments.
Surfgold wishes to express a 'Big thank you for the exciting & meaningful event. Great job!…
Sharmila, Senior Operations Executive, Surfgold Pte Ltd
---
OUR PAST CLIENTS
Corporate Clients

aAdvantage Consulting Pte Ltd
Adidas Singapore Pte Ltd
Areva T & D
Argus Media Limited
Avaya Singapore
Bain & Company Consultancy
Bank Sarasin-Rabo (Asia) Limited
Barclays Capital
Big Stick Adventures
Bonsey Design Partnership
BOSCH Security
British Club
British Petroleum Singapore Pte Ltd
Cadence Design Systems
Calyon Singapore
Cambridge Associates Asia Pte Ltd
Catepillar Financial
Cerebos Pacific Limited
Chevron International Pte Ltd
Cisco Security
Citigroup
Credit Suisse Group
DBS Bank
DDB Worldwide Pte Ltd
Dell Global BV
Deutsche Bank
Diethelm Keller
EDB Investments Pte Ltd
EMC International SARL
EM Services
Epic Shipping (Chartering) Pte Ltd
Ericsson Telecommunications Pte Ltd
Equinix Asia Pacific Pte Ltd
Eu Yan Sang International Ltd
ExxonMobil Asia Pacific Pte Ltd
ExxonMobil Engineering
FHM International
FujiXerox Singapore Pte Ltd
GE Betz Singapore Pte Ltd
General Electric (GE)
Gelmalto
Google
Hewlett Packard (Singapore) Pte Ltd
Holiday Inn Glenmarie Kuala Lumpur
Honeywell Building Solutions
Hr Partners Pte Ltd
HSBC Bank
Huntsman (Asia Pacific) Pte Ltd
ICICI Bank
IKEA
Immersive Technologies (Australia)
Immigration & Checkpoints Authority
Infocomm Development Authority of Singapore
International Logging Services Pte Ltd
Interwoven, Inc
into E Productions
Johnson & Johnson Vision Care
Linklaters LLP
LVMH Fragrances & Cosmetics (Singapore) Pte Ltd
Luge Singapore Pte Ltd
M1 Sales Team
Maccine Pte Ltd
MasterCard Asia Pacific Pte Ltd
Mercer Oliver Wyman
Microsoft Singapore Pte Ltd
Minstry of Education
Ministry of Community Development, Youth and Sports
Ministry of Manpower
Monetary Authority of Singapore
National Library Board
Naval Officers' Advance School
OCBC Bank
Oracle Asia Pacific Corporation
People's Association
Prudential
Philips Electronic Singapore
Pfizer Centresource Asia Pacific
Prison Service
Red Hat Asia Pacific Pte Ltd
Republic of Singapore Navy
RP InternationalSchering Plough
Sagem Orga (Singapore) Pte Ltd
Singapore Customs
SGX
Shell Eastern Petroleum (Asia) Pte Ltd
Singapore Aircraft Leasing Enterprise
Singapore Armed Forces
Singapore Police Force
Singapore Telecommunications Ltd
Singapore Tourism Board
Sitel Singapore Pte Ltd
Solutia Singapore Pte Ltd
Spire Research & Consulting Pte Ltd
Sportsmag Team
Standard Chartered Bank
Starhub
Surfgold Pte Ltd
Takeda Clinical Research Singapore (TCRS)
Temasek Club
The Supreme Court of Singapore
TIBCO Software Singapore Pte Ltd
TNT Express Worldwide (S) Pte Ltd
Toshiba Capital (Asia) Ltd
Toshiba Singapore Pte Ltd
Tumble Tots Singapore Pte Ltd
Veolia Water (SEA) Pte Ltd
Vincar Pte Ltd
Visa International
Yahoo! SEA
Zimmer Pte Ltd

Schools

Anglo Chinese School (Independent)
Anglo Chinese School (Junior)
Anglo Chinese School (International)
Anglo Chinese Junior College
Australian International School
Balestier Hill Primary School
Bedok South Secondary School
Bukit Merah Secondary School
Bukit Panjang Government High School
Bukit View Secondary School
Canadian International School
Canberra Secondary School
Catholic High School
Changkat Changi Secondary School
Chatsworth International School
Christ Church Secondary School
Chongfu School
Dunman Secondary School
Fajar Secondary School
Fairfield Methodist Primary
Farrer Park Primary School
First Toa Payoh Secondary School
Fuchun Secondary School
Gan Eng Seng Secondary School
German European School of Singapore
Geylang Methodist Secondary School
Greendale Secondary School
Hwa Chong Institution
Hillgrove Secondary School
Institute of Technical Education
Kent Ridge Secondary School
Kong Hwa School
Kranji Secondary School
Kuo Chuan Presbyterian Primary School
Kuo Chuan Presbyterian Secondary School
Loyang Secondary School
Meridian Junior College
Nan Hua High School
Nanyang Primary School
National Technological University
National Institute of Education
National University of Singapore
Ngee Ann Secondary School
Ngee Ann Polytechnic
Northland Secondary School
NUS High School
Outram Secondary School
Pei Cai Secondary School
Pioneer Secondary School
Republic Polytechnic
Singapore Chinese Girls' School
Serangoon Garden Secondary School
Singapore American School
Singapore Institute of Management
Singapore Sports School
Singapore Management University
SJI International
St Andrew's School
St Gabriel's Secondary School
St Hilda's Primary School
St Hilda's Secondary School
St Patrick's School
Tanglin Trust School
Tao Nan Primary School
Temasek Junior College
Temasek Secondary School
UWC (SEA)
Victoria School
Victoria Junior College
Yusof Ishak Secondary School
Yuying Secondary School

Other Clients

Adam Road Presbyterian Church
American Club
AWARE
Bedok Methodist Church
Bethel Presbytarian Church
Brighton Community Church
Bukit Panjang Gospel Chapel
Camp High Achievers
Calvary Baptist Church
Centaurus Sports Pte Ltd
Chai Chee RC
Church of Singapore
Church of the Ascension
City Harvest Community Service
Cub Scouts of America
Eagles Scouts Group
Faith Community Baptist Church
Leng Kwang Baptist Church
Living Praise Presbyterian Church
Lutheran Community Care Service Ltd
Metropoliatian YMCA
New Creation Church
Ngee Soon East Community Centre, YEC
North-East Community Development Councel
Serangoon Community Club
Singapore Island Country Club
Singapore Recreation Club
Singapore Women Society
St Hilda's Church
Student Works Services
Singapore Life Church
Singapore Youth for Christ
SOKA Association
Temasek Club
The Boys' Brigade
The British Club
TOUCH Youth
US Military (Sembawang Base)
Wesley Church