CORPORATE BOOKING RATES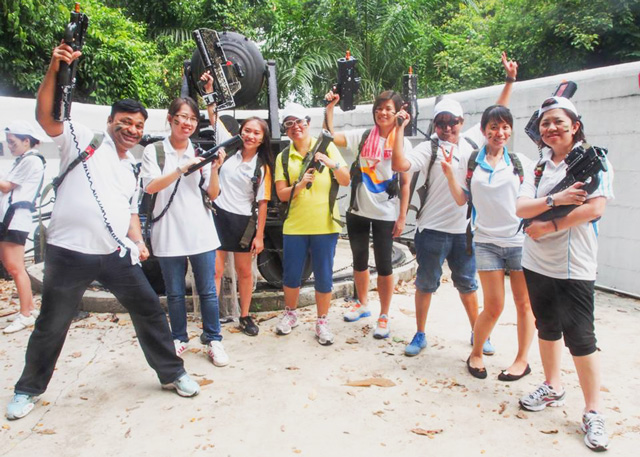 Looking for something casual and fun for your sales team or office gathering and get together sessions? Our laser tag fun shoot outs are pure fun without any serious teambuilding elements. You'll get to play simple laser tag missions and have a great day just unwinding from the office stress, getting a good work out from all the running and perhaps learning something new about your fellow colleagues.
Combat Skirmish Laser Tag  can also make a great team building activity for corporate groups as our missions are customizable according to the objectives and goals you might wish for your team or organization to achieve. We will keep in mind your needs and preferences, tweaking games and missions to suit your group dynamics as well.
We are totally mobile! This means we can bring laser tag teambuilding and training programmes right to where you are – whether you're in a hotel meeting room, or a public park near your office, and even your very own office. As long as you get the management's approval, we'll be there! Our team building and training programmes generally take up at least half a day. You'll require a minimum group of 10 pax to have an effective session.
Prices for corporate settings range from $58 and up for half a day session. This includes equipment, facilitations and trainers.
---
BIRTHDAY PARTY & PRIVATE BOOKINGS
Special Notes:
* ID Tags are a special gift only for the Birthday child or adult
* T-shirts are only available in kid's sizes 28, 30, 32
* We reserve the rights to replace complimentary items with another item of similar value without prior notice
Add-Ons (Optional):
Rental of 1 set of Tents (6 pcs) – $100
Rental of 2 sets of Tents (12 pcs) – $180
Rental of 4 x small inflatable obstacles – $100
Rental of 8 x small inflatable obstacles – $150
Rental of 1 x big inflatable obstacle – $50
Inflatables will add extra fun to any party! (Subject to location)
---
BULK BOOKING DISCOUNT RATES FOR SCHOOLS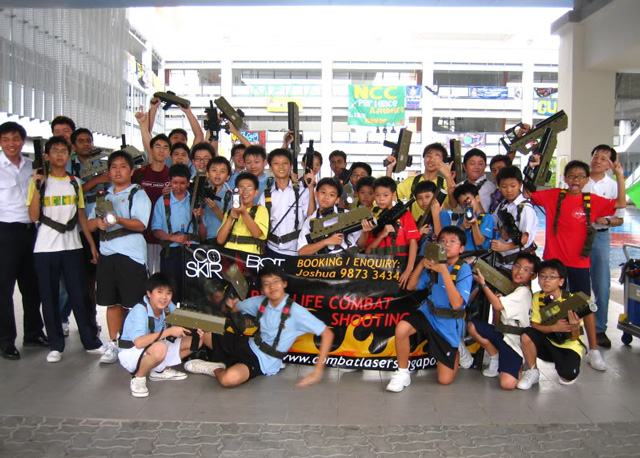 Combat Skirmish Laser Tag is all about the more the merrier! We love having big groups of people coming together to play laser tag, forming teams and carrying out missions could never be more exciting! If you're looking at organizing events with large groups or even just a casual shootout with your family, friends or colleagues, you'd be glad to hear that we have a bulk discount for large groups (minimum 30 pax and above). Enjoy our bulk booking special rates if you have a group of 30pax or more! Quote "BULK30" when you make your booking with us and we'll extend this special rate to you. Drop us an enquiry to get your booking done!