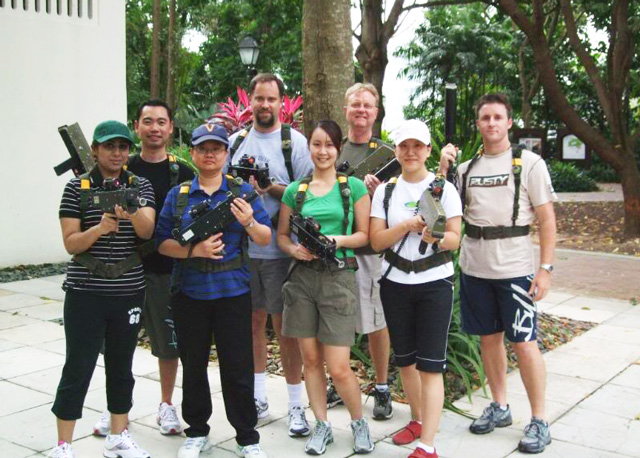 LASER TAG TEAMBUILDING SESSIONS IN SINGAPORE
Spice up your Company's teambuilding event with Combat Skirmish Laser Tag! Our one of a kind teambuilding program in Singapore is not only effective but expect to have lots of exciting fun through a mock up combat simulation laser tag game experience. It can be done indoors or outdoors, on a full day or half day programme duration.
Teambuilding Values
Through our Combat Skirmish Laser Tag Teambuilding Sessions, you can easily bring across teambuilding values such as:
Communications
Leadership
Delegation of duties
Strategy planning
Fast thinking
Planning ahead
Sense of urgenct
And many more…
Our laser tag teambuilding sessions can be arranged for both adults and students. If you would like to play in your own team and are game for an exciting challenge, you can even request to play against our experienced staff! Drop us an enquiry to find out more!
---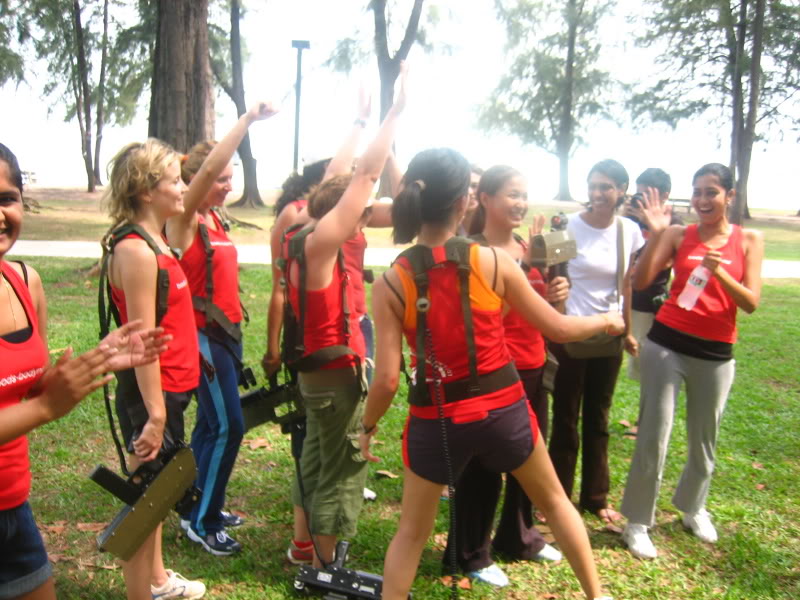 TEAM FOCUSED MISSIONS
Combat Skirmish Laser Tag Singapore prides itself on building up good team spirit throughout the game. With team focused missions, we eliminate individual statistics and scoring while drawing more attention to the teams overall score progress. Our focus is on having fun as a team and not individual glory. Afterall, it's teambuilding that we're interested in, not grooming heros.
Team-Focused vs Individual Glory
There are two different scoring systems that could make or break a team.
Individual scoring and rankings focuses on an individual's performance throughout the game. As such, players tend to play only for themselves, deviating from the very purpose of a team-focused sport. Players might even leave the game feeling discouraged about scoring poorly as compared to their peers or colleagues.
Team scoring, on the other hand, would encourage players to work together closely as a team. It focuses on a combined team effort instead of the individual's own effort. Players would definitely leave the game feeling positive having contributed to the overall team achievement in one way or another.
After all, in today's corporate world – it's not about moulding individual heroes but about working together with everyone contributing to achieve a common team objective and goal.
---

COMBAT SKIRMISH FUN SHOOT-OUTS
No trainers, No observations, No debriefs, Just staff to conduct games
Enjoy a fun day of Combat Skirmish Laser Tag with your office colleagues. Our Fun Shoot Out is kept totally casual and aims to take away the work stress while bringing a refreshing change for you and your entire team. Take the day to unwind, relax and see a different side of your colleagues – as you sweat it out, chase each other and having a great time eliminating team opponents. Laser Tag Fun Shoot Out Sessions can be held at various locations around Singapore. Let us know what your preferred location is and we'll advice you accordingly.
Note: You'll need a minimum group of 10 pax to have an effective session.
---
COMBAT SKIRMISH TEAMBUILDING & TRAINING
Trainers will make observations and give a debrief of learning values at the end of the session.
Combat Skirmish Laser Tag is a fun and meaningful teambuilding activity for corporate groups. All our laser tag missions are fully customizable according to the objectives and goals you might wish to achieve with the session. Trust our highly experienced trainers to help work out your team's dynamics while keeping the session fun and approachable. We'll not only ensure that your needs are met, we'll guarantee you a whole new level of fun and excitement – teambuilding sessions are never going to be the same again! Gone are the days of boring dreadful workshops and silly embarrassing games. Combat Skirmish Laser Tag Teambuilding is your game changer!
Note: Our laser tag teambuilding programmes generally take up at least half a day. You'll require a minimum group of 10 pax to have an effective session.
---

COMBAT SKIRMISH LASER TAG IS MOBILE
This means that we have no fixed location. We can set up our laser tag battlefield almost anywhere in Singapore. Be it a park, beach, hotel meeting room, or even your own office! As long as you get the nod of approval from the venue provider, we'll be there to host your session. However, if you do not have any location in mind, do contact us and we'll be able to suggest a couple of places that'll suit your group size and program.
---

I NEED A CUSTOMIZED PROGRAM – HELP!
Here at Combat Skirmish Laser Tag Singapore, we pride ourselves with being versatile and creative. Did you just get arrowed by your boss to fix up the next teambuilding session or office get together? Fret not, we are here to rescue you! Our capable team will be able to customize an entire teambuilding program that's uniquely yours – delivering to all your needs and objectives. Simply drop us an enquiry to find out more!